Burundi Young Friends Engage in Thoughtful Dialogue with FWCC Clerk, Simon C. Lamb During His Visit to Burundi
A vibrant exchange of ideas and beliefs unfolded on August 11, 2023, as Simon C. Lamb, Clerk of the Friends World Committee for Consultation (FWCC) world office, visited Burundi's Young Friends for an open discussion. The event took place at Rohero Monthly Meeting within Kibimba Yearly Meeting and marked a significant moment for the Burundian Young Friends as they engaged in a thoughtful dialogue with an international Quaker leader.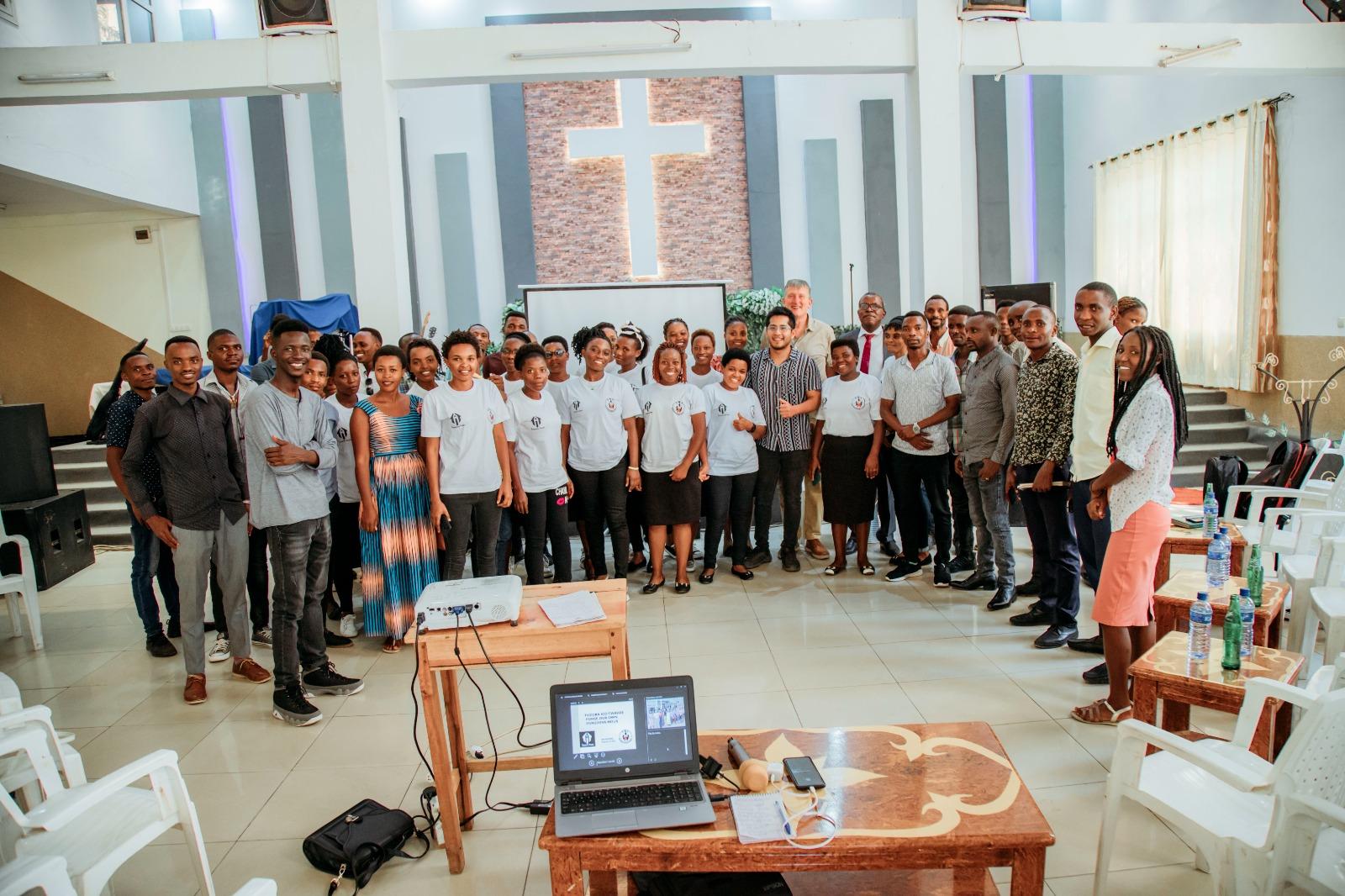 Simon C. Lamb's visit to Burundi coincided with his trip to Africa for the planning committee meeting of the 2024 World Plenary Gathering and the Central Executive Committee of FWCC. Following this important meeting in South Africa, he extended his journey to Burundi as part of his summer break to connect with Burundi Friends Church's Young Quakers. Accompanying him was Myron Guachalla Montano, the current Young Friend Representative within the Central Executive Committee of FWCC.
The open discussion covered a range of compelling topics, including Quaker theology, Quaker testimonies, Christian values, and the history of Quakerism. This dialogue was of great significance as many Burundian Young Friends seek a deeper understanding of their own church's history and evolving beliefs. Simon took the opportunity to shed light on the foundational beliefs of early Quakers, including the teaching that Christ's inward light resides within every human being, enabling each person to minister and serve as a pastor.
The discussion also touched on the concept of unprogrammed worship, which involves silent meetings where individuals gather to directly experience the voice of God. This style of worship sparked diverse perspectives and stimulating questions from the Burundian Young Friends. As the conversation unfolded, the young Friends posed thought-provoking questions, including:
1. Quaker History and Evolution: How did Quakerism develop in Africa, particularly in Burundi? What led to the diversity in Quaker traditions, worship styles, and activities among different Quaker groups?
2. Inward Light of Christ: Is every individual truly born with the inward Light of Christ, or is this Light only revealed upon accepting Christ into their lives? Isn't this Light of Christ rather an external dimension that reveals itself to a troubled/lost soul?
3. Knowledge in Silence: How can individuals grow their understanding of God in the absence of guided biblical teachings and pastors? How can salvation and the inspired word of God be known to new members or unbelievers in silence – where there is no structured preaching?
Simon C. Lamb dedicated ample time to address each question, leading to a rewarding and captivating exchange. The enthusiastic participation of the Young Friends kept the conversation engaging and meaningful.
The talk turned out to be so intriguing that the Young Friends didn't want to end the conversation. The event concluded on a positive note, with the Burundian Young Friends inviting Simon for a return visit in the near future to hold more of such discussions. The Young Friends also suggested a three-part plan to foster connections between Irish (& British) Friends and Burundian Friends:
1. An exchange program between Burundi Young Friends and Irish Young Quakers.
2. The establishment of internet hubs for Burundi Young Friends to facilitate communication and learning opportunities. These hubs would also enable a number of Burundian Friends to virtually attend the upcoming 2024 World Plenary meeting through internet-based computer workstations within these hubs.
3. A 5-day conference around 2025, focusing on biblical teachings, discussions, and business coaching, featuring British/Irish Quakers to empower the Burundian Young Friends.
We additionally intend to emphasize that Simon's meeting with the Youth was graced by the presence of "Tuzoba Ico Twigize," (meaning "Forge our own") a self-help group of Burundian young women supported by the Friends Women's Association. This group aims to uplift the socio-economic status of young females through various activities including design and branding, crafting handmade baskets from recycled plastics, financial savings, loans and micro-investment initiatives, entrepreneurship as well as training and workshops.
In summary, Simon's visit to Burundi's Young Quakers sparked a dynamic and fruitful exchange of ideas. The event not only enriched the knowledge of the attendees but also paved the way for future collaborations and connections between Quaker communities across borders and FWCC Sections.
30 Aug 2023